Helical Insight comes with a list of databases which are directly present. If you would want to connect to a database and do not see the name of that in the list, then it is very simple to add a new database in Adhoc Data Source connection option.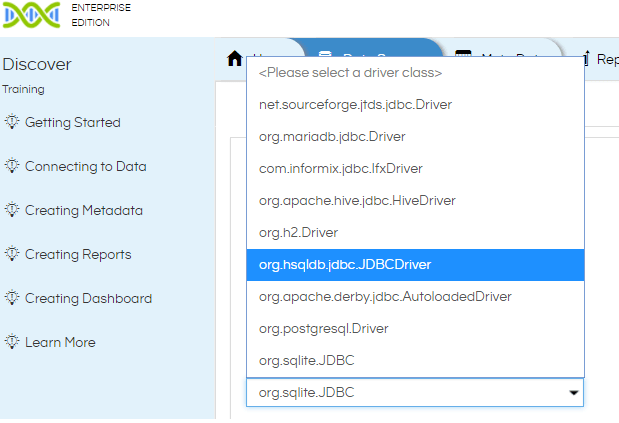 Following are the steps to update database driver list in Helical Insight :
Step1:
Open "hi-repository" folder from the location where Helical Insight application is installed.
For Example:
C:\Users\Helical\hi\hi-repository\
Note:
The actual path depends upon the location where you have installed the Helical Insight application.
Step2:
Now, open
"System"
folder and then open
"Drivers"
folder.
Step3:
On opening, a list of
"jar"
files are present for each database.

Step4:
Now, to add a new driver in the list, download database specific
"JDBC driver jar file of type 4"
file from the source  and then add the driver file into "
Drivers
" folder.

Step5:
On adding required jar file/s, create a new datasource an updated list is displayed.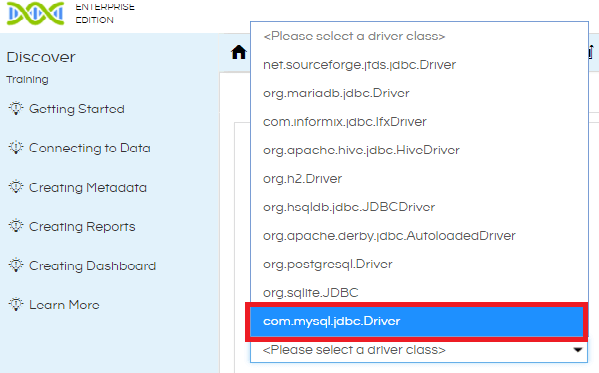 For further assistance, kindly contact us on
support@helicalinsight.com
or post your queries at
forum.helicalinsight.com