In this article, you will learn about usage of "Quick Database Functions". Quick mode option allows you to select function directly from the function list. The function list is shown based on the datatype like text, date, dateTime and numeric. Using Quick mode you can apply only single function on the data.
How to open Quick Mode



Suppose you want to apply function on date data type then using Quick mode option you can see the predefined function list based on the datatype like extract date, date_format, day name, day of month, day of week, day of year, last_day, month, month name etc. Client can themselves add more functions in this list. Click here to know more.
How to apply a function on the column using quick mode :
Go to adhoc editor
Drag and drop the required column
Select the column on which functions needs to be applied
Suppose selected column is of date datatype
Click on the column in selection panel then click More
On clicking more a window pops up where quick tab is in open mode
Select the required function from the list and click

Save

.
Now click on Generate Report
Some of the functions are shown in the below images
Month Name Function: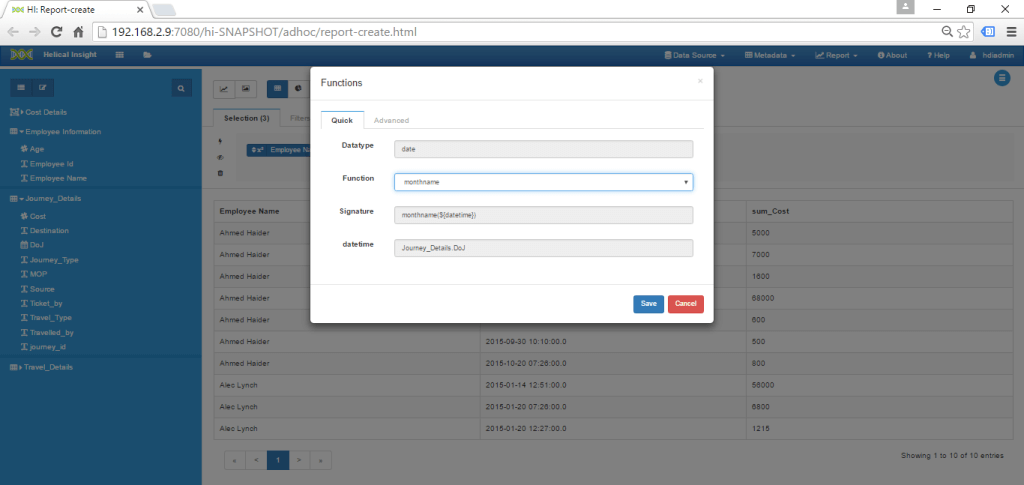 After saving, generate the report for final output.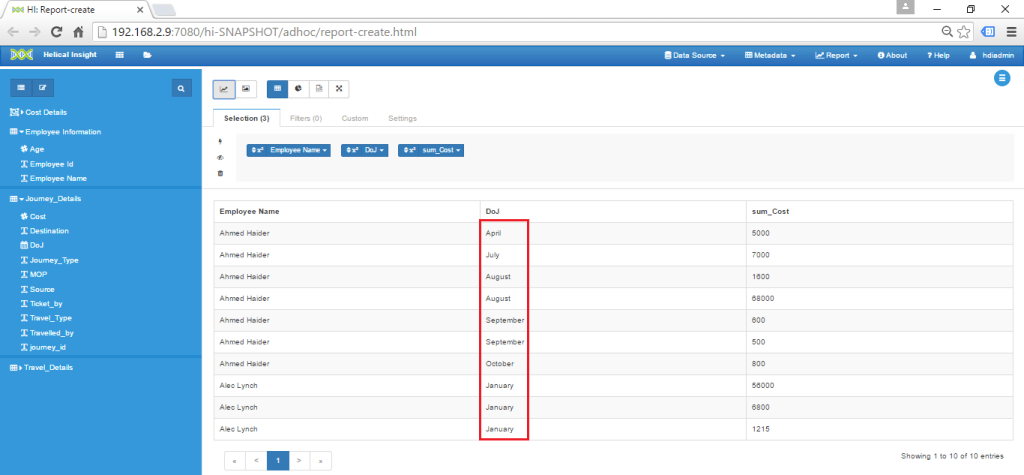 Day Name Function: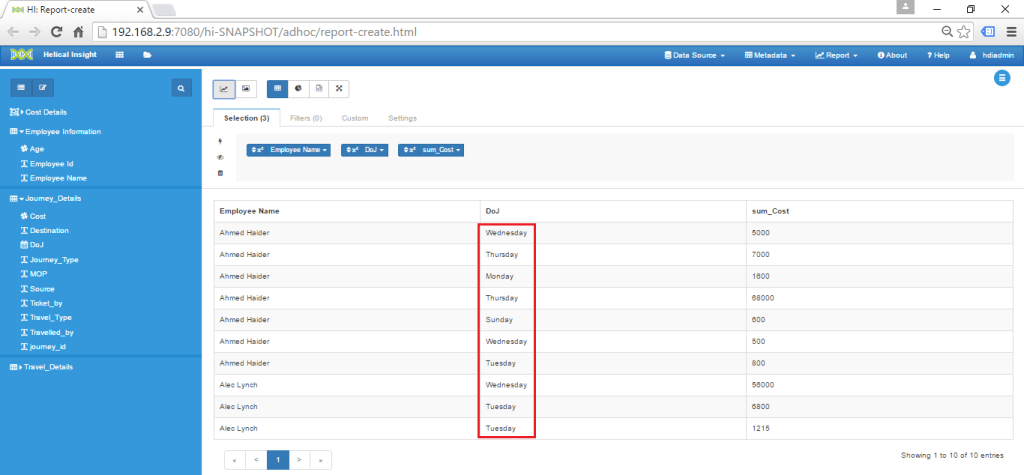 Similarly, you can apply date datatype database functions.
Whereas for Numeric Datatype quick mode option has the functions like
Average : It shows the average value of the data,
Round : It will round off the values
Power : It displays number raise to power of another number
Sqrt : It displays the square root values
Mod : displays the reminder values and many more functions.
List of functions for
Numeric Datatype
Output on applying the various Numeric function :
Square Root Function: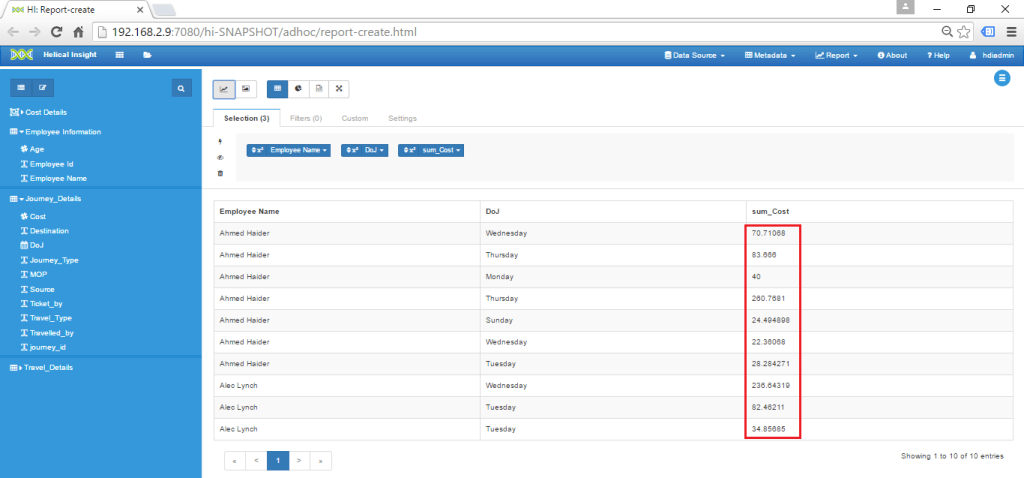 Mod Function: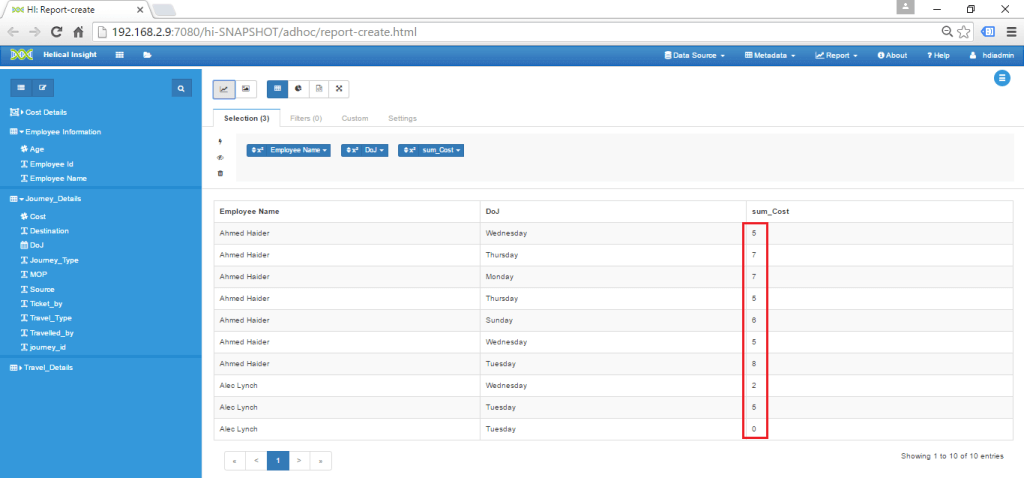 Similarly, you can apply other numeric datatype database functions on the respective column.
Text Datatype
In Quick Mode here are the default list of functions available for text datatype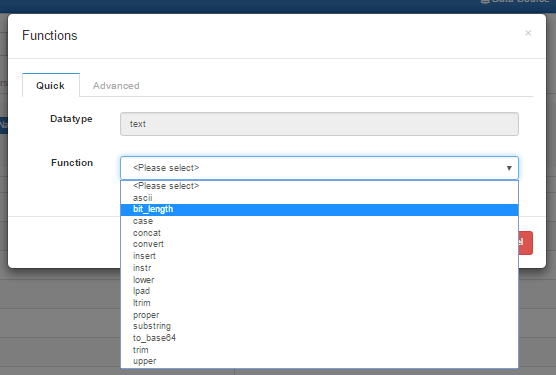 Some of the functions for text datatype are : concat, bit-length, proper, lower, upper, insert, trim and so on.
concat : It is used for joining multiple text.
proper : It is used to convert first letter of text into upper case and rest into lower case.
lower : It converts the text into lower case.
upper : It converts the text into upper case.
insert : It inserts the string at any position.
trim : It removes the space from beginning and ending of the string. and many more.
Output for application of functions for Text datatype are shown below :
Upper Function: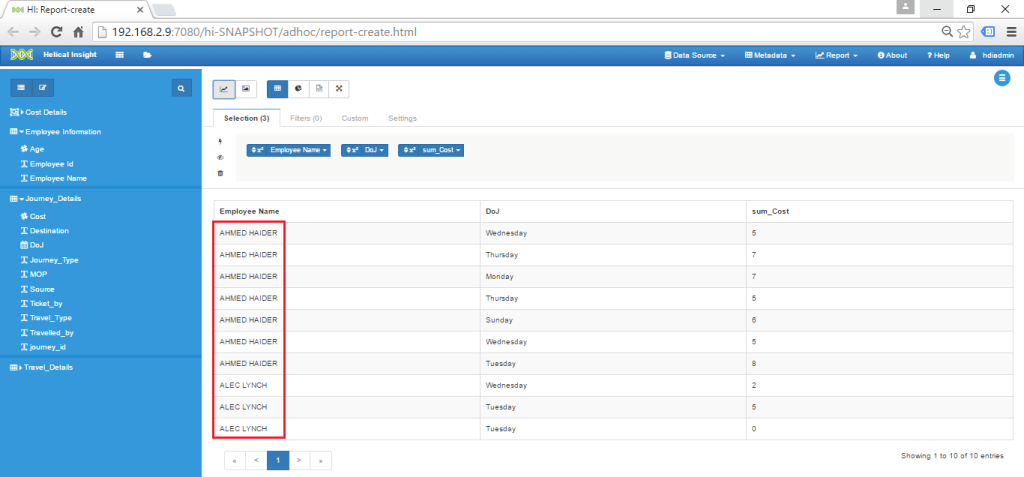 Substring Function:
For More Info, Contact us at
support@helicalinsight.com