Introduction: Amongst various sources, social media has been one of the most highlighted and influential players in the cyber arena. Facebook is on the verge to beat the size of Germany with around 400mn active users. Twitter is following the Facebook in the same line. This unbeatable & phenomenal growth of the online giants is creating an urge to connect amongst each other around common interests. It presents a whole new paradigm for selling and communicating online.
With people revealing their honest preferences and thoughts on social media, it is creating a grand opportunity for businesses to ramp up their sales, cut down marketing costs and interact with their consumers directly on these platforms. The amount of insight and valuable information a business can extract from social media data is limitless.
Benefits of Business Intelligence for Social Media Companies: Business Intelligence and social media are now inseparable. Even the most basic user of any social media service asks himself such questions as "What's trending today?", "How do people feel about…?", and "How many followers do I have?" It is the responsibility of Business Intelligence to give the details in a comprehensive and scientific way thus providing business value. It helps the companies to gain competitive edge, cut costs and release products with a greater degree of success. For small and medium sized enterprises, BI can turn into the game changer. It allows them a greater audience reach, greater cost savings and more effective targeting. Advertising and marketing campaigns can be created more efficiently.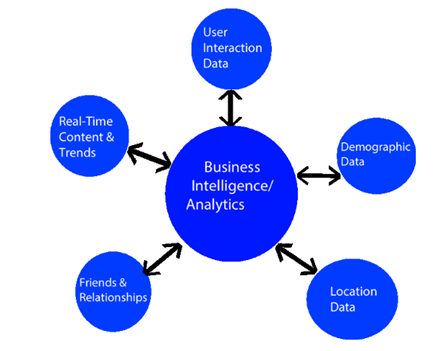 The integration of social media with BI has a high value proposition. These additions help in making BI easy to use. It also makes sharing information and communicating with various people a natural extension of analytics. The higher levels of interactivity and the ability to communicate regularly increase the overall value proposition of BI within an organization.
The business intelligence helps in achieving a higher level of ROI – in terms of BI use as well as overall performance management. The promise of greater data visibility, enhanced business decision making and the ability to lower operational costs and/or increase profits are some of the main reasons why BI's popularity continues to grow. Adding the functionality intrinsic within social media adds to the overall value proposition of BI.
KPIs for Social Media
1. Reach
Number of Fans and Followers
Demographics and location
Post reach
Post engagement
Response rate
2. Engagement
Number of active followers
likes and shares
comments
mentions
Re-tweets
Traffic data
Social Media Metrics
| S.No | Facebook Metrics | Twitter Metrics | Youtube Metrics | Instagram Metrics | Google+ Metrics |
| --- | --- | --- | --- | --- | --- |
| 1 | Page Likes (new likes, unlikes, growth vs. previous month and YoY) | Followers (growth) | Subscribers | Followers (new, lost, growth) | Followers |
| 2 | Total Reach (organic, paid) | Follower segmentation: interests, location, gender, etc. | Views (organic, paid) | Total Media (new media over the past month, photo vs. video) | Views |
| 3 | Total Impressions (organic, paid) | Total Impressions (organic, paid) | Likes & Dislikes | Likes (new, total) | Posts |
| 4 | Engaged Users | Engagement rate | Comments | Total Reach | Profile Ranks |
| 5 | Engaged Users (post level) | Tweet activity: retweet, favourites | Sharing | Impressions (organic, paid) | Comments |
| 6 | PTAT – people talking about this (folks who engaged with your content, basically) | Customer service related issued (quantity, resolved) | Source of playback (mobile, embedded, etc.) | Engagement rate (love, talk, spread) | Mentions |
| 7 | Edge Rank | Traffic generated to your website | EMW: Estimated Minutes Watched | | Re-shares |
| 8 | | Competitive analysis (hash tags, lists) | | | Reach |
| 9 | | Questions answered or comments passed on (product improvement) | | | Impression |
| 10 | | Queries dealt through direct messages | | | |
Use case
Social media giant Facebook, prides itself as a data driven company, yet the managers in the company complained of being starved for the information they needed to do their jobs.
To tackle this problem, Facebook is using a BI product along with internal tools built on it. The Business Intelligence portal in Facebook is internally known as the "Nexus". Facebook has its own big-data analytics system based on Hive. Hive is open source technology invented by Facebook itself which works with Apache hadoop. Data which is needed for day-to-day business analytics is extracted from the Hive and loaded into the database. This data includes business as well as financial data which are then further used to make reports and ad-hoc queries through BI tool.
Thus, even if being a data driven company, Facebook makes use of BI for their daily business and financial purposes.
If you have a social media website and want to see the power of BI in action, get in touch with Helical Insight. Log on to
www.helicalinsight.com