This article will elaborate about how to share metadata with other organization.
Using Helical Insight you can fulfill all your requirements with proper predefined condition at a metadata level. To know more, how to define a condition
click here
Following are the steps to define the condition in case of Organization level sharing :
Open the metadata file which is to be shared.
Metadata file will be represented with the extension ".metadata" and file will be filename.metadata.
After opening the file, add the code in the shared tag :
<organizations mandatory="true">
            <organization id="30">2</organization>
</organizations> 
whereas,
id=30 :
it shows the target organization id with whom a metadata will be shared
2   :
it shows the permission level given to the target organization currently in
"Read Only"
mode.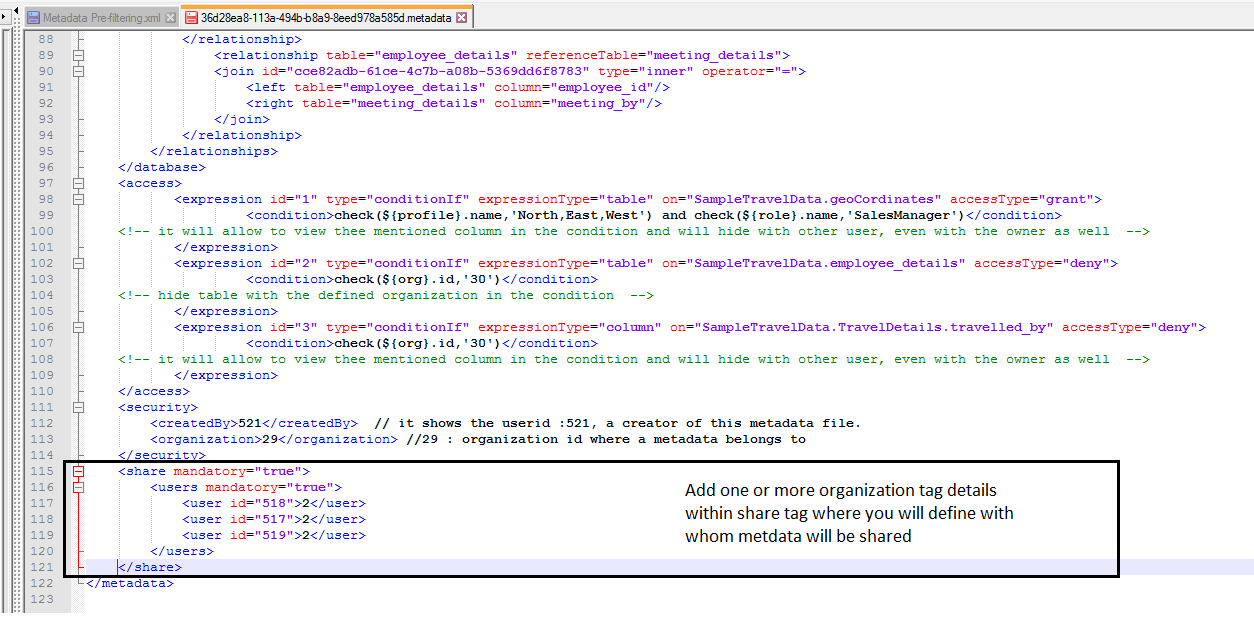 4.  After entering the code
Similarly, a user can add one or more organization tag with the details like organization id and permission level.
5. On, saving the metadata file now the organization with organization id=30 can access the metadata for creating reports.
6. Now, to hide a column and a table with the other organization a user will have write an expression consisting of filters and conditions.
Expression for hiding Table and Column with other organization : Expression id 1 is for hiding table and expression id 2 is for hiding column.
<access>
     <expression id="1" type="conditionIf" expressionType="table" on="SampleTravelData.employee_details" accessType="deny">
         <condition>
                    check(${org}.id,'30')
         </condition>
     </expression>

     <expression id="2" type="conditionIf" expressionType="column" on="SampleTravelData.employee_details.travelled_by" accessType="deny">
         <condition>
                    check(${org}.id,'30')
         </condition>
     </expression>
</access> 
For more info, contact us at
demo@helicalinsight.com