In this article you will learn about how to Edit Metadata. Enter the URL wherein Helical Insight is installed using any browser, a login id page will appear. Enter the required credentials. Navigate to "Adhoc Page" by clicking on "Adhoc". On the adhoc page, click on "Metadata" and "Edit". A file browser will appear with the option to navigate to various folders, sub folders.
Only those files and folders will appear to which you are having access to. You can navigate to any metadata file and use it by either double clicking it or right clicking and use metadata.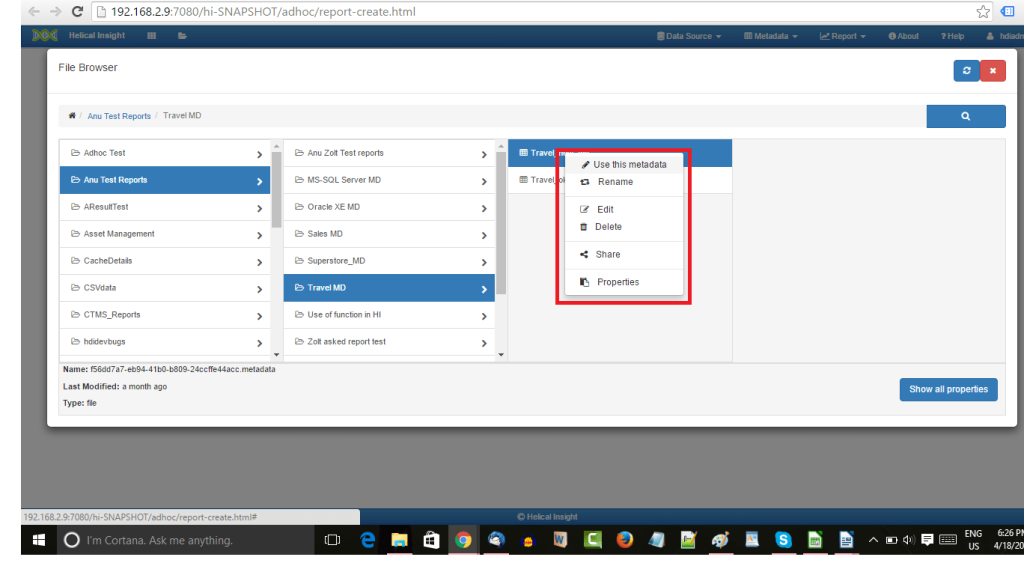 Right clicking on metadata also allows user to delete the metadata, share the metadata with other users and roles, and view the properties of the metadata. After opening the metadata, user can see the joins, views, alias created at the time of metadata creation. Then from the create Metadata page, select the required datasource type. For this video demo we are going to use "Managed Datasource". On selecting managed datasource, list of all the Managed DataSources which have been saved appears with scroll down option.
You can click on "Test" to check the successful database connectivity. You can click on the Name of datasource and use that to create metadata.
For more info, contact us at
demo@helicalinsight.com
For Video,
Click Here