Following are the steps to share a any resource like folder, report, dashboard, metadata etc:
Step 1: Click on the file browser menu while you are in home window
Step 2: Now select the report from the folders where it is saved, right-click on it and click on 'Share' option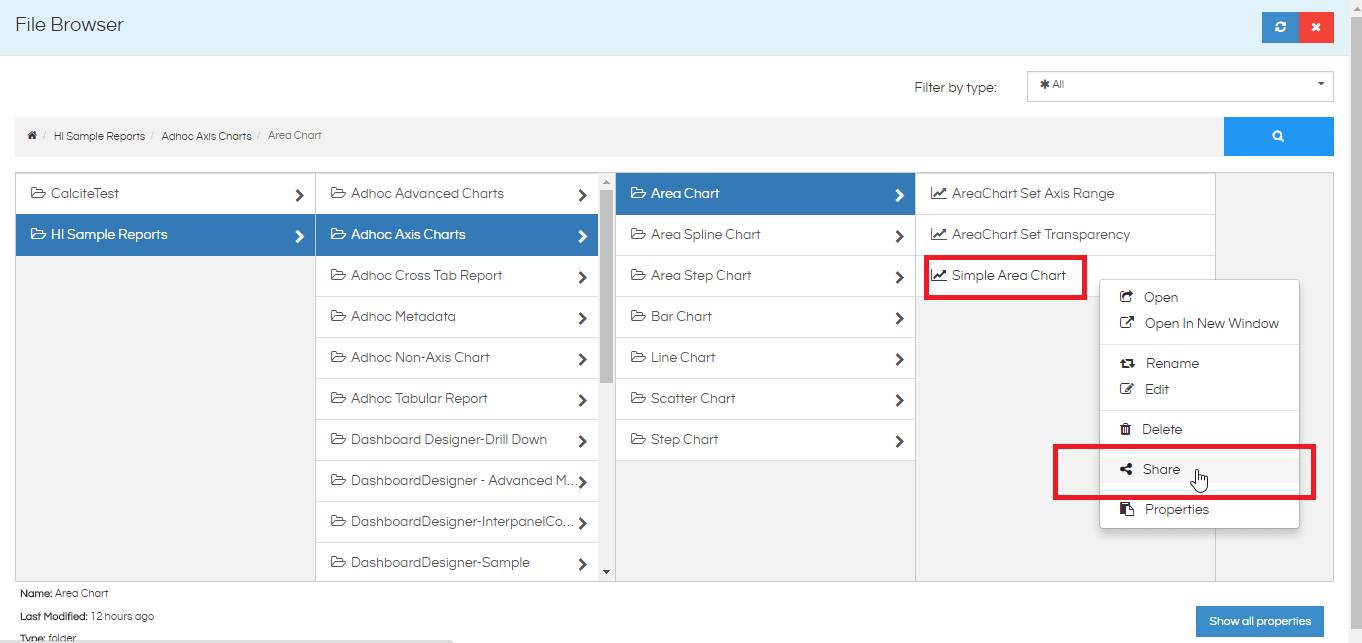 Step 3: Now select the Users/Roles/Organisations with who the Report/Dashboard is to be shared and click on 'Save'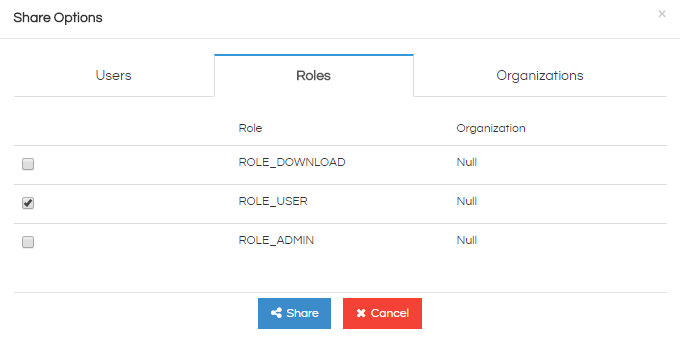 In the screenshots above, we can see that report named 'Simple Area Chart' is being shared. Notice that this report is present inside the folders HI Sample reports > Adhoc axis charts > Area chart
Thus, we need to share these folders as well to the intended User/Role/Organisation
To do that, perform steps 2 & 3 on each of these folders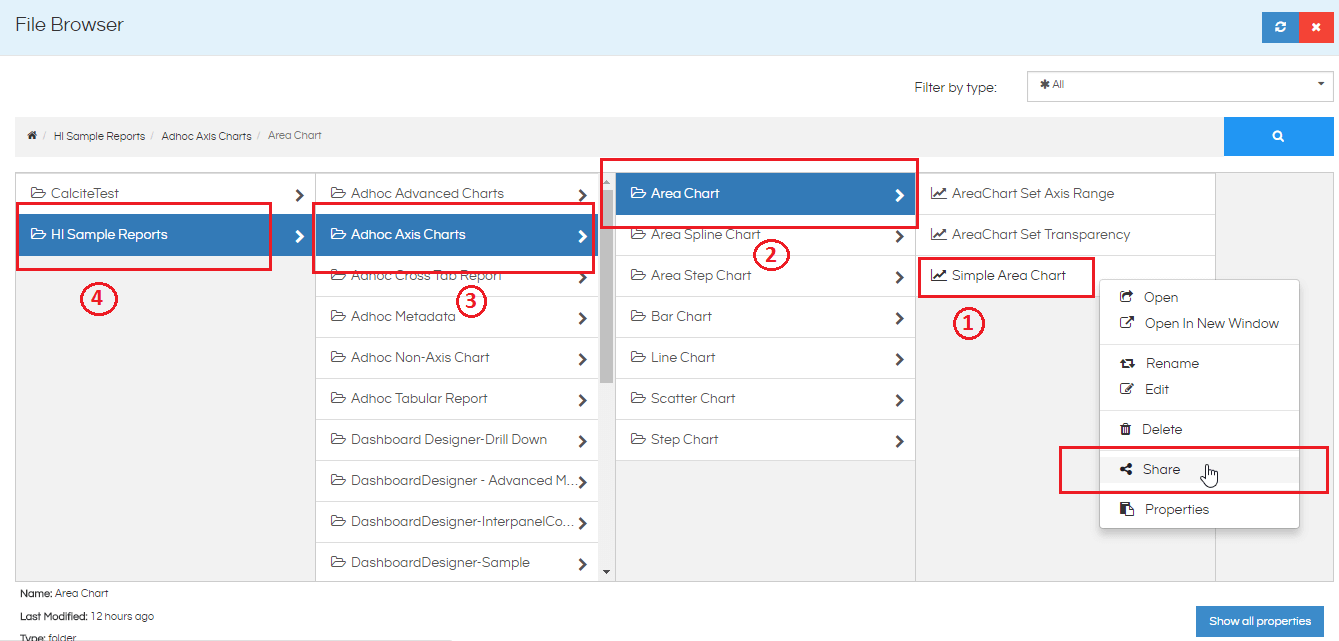 Similarly, we are also required to share the 'Metadata' & 'Datasource' which was used to create the Report/Dashboard with the User/Role/Organisation
To share Metadata, click on filter at the top right corner and select metadata.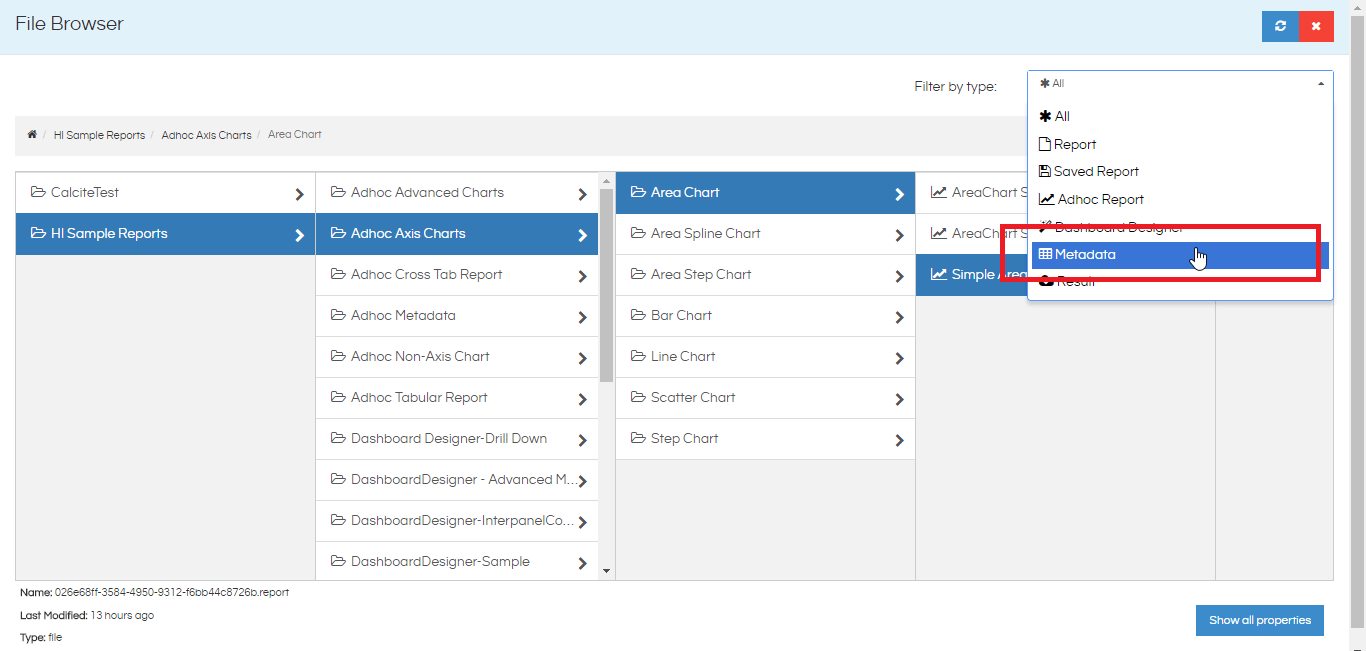 Now select the metadata and right-click on that metadata file. Click on the share option and then select the User/Role/Organisation as done in previous steps.
As explained earlier please share the folders also, in which the metadata was saved, with user/role/organization. In the above example, we would have to share the 'Adhoc Metadata' & 'HI Sample Reports' folder.
Now the last step is to share the 'Datasource' with users. To do that, click on the Data Sources tab.
Click on Share option under the data sources tab
Select the data source type which would then open a list of data sources.
Go to the respective data source and click on share button

Select the Users/Roles/Organisation and click on share.
These are all the steps to share a Report/Dashboard with a User/Role/Organisation
For More Info, Contact us at demo@helicalinsight.com