Users can now directly upload flat files like CSV, JSON, Parquet, TSV, Avro and Sequence Files to Helical Insight. Following steps need to be followed.
Step 1: Download, install and start Apache Drill. To learn how to install Drill.
Step 2: Configure the middleware to support flat files.
Step 3: Go to Data Sources page. You can now see the icons of various flat files.
Step 4: Click on the type of flat file you want to use. You will be taken to Create popup.
Step 5: Click on Upload File. Select the file that you want to upload. The name of the file will appear in the URL box. A green tick mark will appear which indicates that the file has been successfully uploaded.
Click on Clear to clear the file name and upload another file.
Step 6: Enter the Datasource Name in the space provided.
Step 7: This step is optional. If you want to view the advanced settings, click on Advanced link on top of upload file button. Following advanced settings will appear:
Driver: This is the database driver. By default, for flat files a custom driver name is generated by Helical Insight.
DataSource: This is the datasource provider. By default it is Tomcat.
Step 8: Click on Test Connection to test the connection.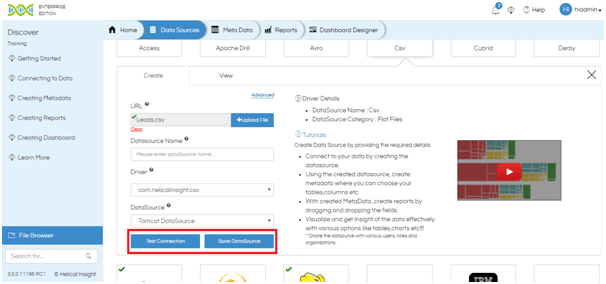 Step 9: Once the test is successful, click on Save DataSource. The following screen will appear. You can now use this connection to:
Create a Metadata
Edit the DataSource
Share the DataSource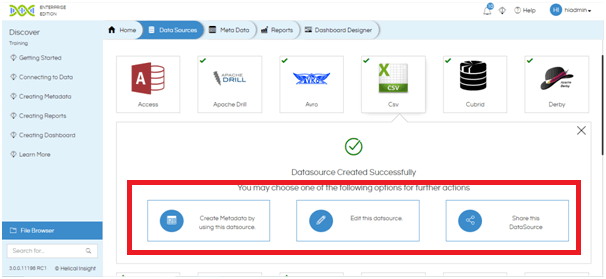 For more information you can email on support@helicalinsight.com