May'2021: If you are still using BIRT Reports, you will soon need to find an alternative for your reporting needs as the current BIRT reports are reaching end of life cycle. Open Source BI product Helical Insight is an excellent tool that can replace BIRT Reports and offer you much more. For starters, Helical Insight is an Open Source tool built on Java and frontend as react. It is one of the rate completely browser based on-premise tool can be used on-premise as well as on the cloud.
Canned Reports:
Similar to BIRT reports Helical Insight offers canned reporting module which allows to create any kind of pixel perfect reports and printing. Exporting is available in a variety of formats which includes – XLS, XLSX, PDF, DOC, DOCX, ODT, ODS, PPTX, XML etc. The canned reporting module can be used to create multi pager reports like balance sheets, invoices, purchase orders, certificates etc.
There are a lot of additional benefits on the canned reporting module which we provide which includes embedding options, support of various kind of SSOs, data security, browser based drag drop interface to create such reports, email scheduling/ bursting, caching, pagination, load balancing etc.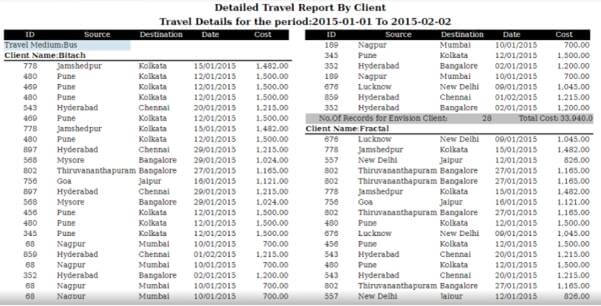 Not only Helical Insight is a reporting product but it can offer you much more. It can offer you advantages of traditional reporting products (for canned reporting requirements) as well as new generation dashboards and BI products. Some of them are explained below.
Database
There are a lot of datasources which are supported which includes MySQL, Postgress, InfiniDB, Mongo, DB2, MS Access, Maria, Oracle, Presto, Druid, Clickhouse, elasticsearch, vertica, flat files (CSV, excel, TSV, Parquet, JSON etc), middlewares like drill, dremio etc.
Also an end use can always have options to creating and uploading his own dbdriver.
User Role Management and Data Security:
We have our own user role management with 4 layers of security which includes organization, roles, users and profiles. Further the same report dashboard can be viewed by different users but they will see their own data. So that kind of data security option is there.
Email and Scheduling:
Helical Insight has the option to schedule reports and dashboards and send them over email in various exporting formats. Threshold based alerting can also be implemented.
Extensibility:
With more than 600+ API (every frontend functionality supported by API), placeholders to add HTML/CSS/Javascript, placeholder to add SQLQuery and Groovy code, plenty of configurable XML files, ability to add new charts new DB functions new aggregate functions new DB drivers etc, Workflow engine for custom business processes creation and open source code Helical Insight is a framework that can be customized as per your business needs.
Drag drop interface
Helical Insight has an easy drag drop interface to create both graphical reports and dashboards and pixel perfect report layouts. It does provide a no-code platform also, hence a person with no technical knowledge (without even knowing HTML CSS SQL) can also create reports dashboards etc.
Embedding Options
Helical Insight can be easily embedding within your own product/application using iFrame, object, embed tags as well as APIs. The application can be completely white labelled. It supports Single Sign On (SSO) using LDAP, CAS, Active Directory, ADFS, SAML, OAuth and External DB Authentication.
Load Balancing and High Availability
Helical Insight supports stateless sessions which are ideal for load balancing and high availability which are critical to today's applications where companies are working round the clock around the globe. This can ensure that the performance is always good and the BI server is always available online round the clock.
Machine Learning & Instant BI
With an eye on the every changing technology landscape we are also aggressively working on integrating the latest technologies into the product. In our next releases you will be able to see several ML algorithms inbuilt without our product like regression, correlation etc.
Also to make the entire process of data analysis even more simpler and to give the power of data analysis into the hands of everyone the new module which is about to launched is called Instant BI. This specific interface, powered by machine learning and NLP, will allow users to type their questions and get instant business answers with absolutely no technical knowledge required. Don't drag and drop, start interacting with your data and make every user a power user.
Check out more features of the tool and register for a free demo of the product at
www.helicalinsight.com/register
. Please reach out for