In this blog we will learn about category More Charts visualisations pane and its customisations. More charts also give you charting options like Grid Chart but like a normal chart, not in the form of a grid kind of charts. Further More Charts also can allow you to create word cloud and card widget also additionally.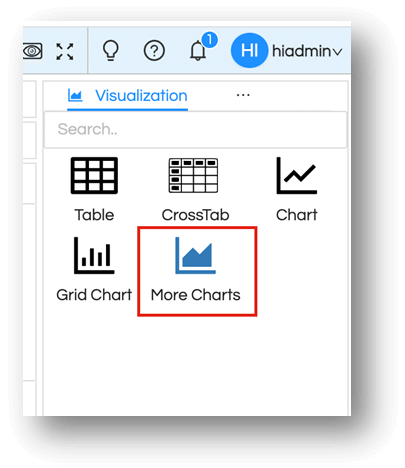 1. How to prepare Charts
Let's select a measure like travel_cost and dimension like mode_of_payment into rows and columns and then select More Charts from visualisation pane. By default, you will see a bar chart is generated.
2. Marks option
To select other charts and representations for category More Charts, then select this meatball icon on the top right. from the menu list, select Marks.
To see all the possible charts Expand All.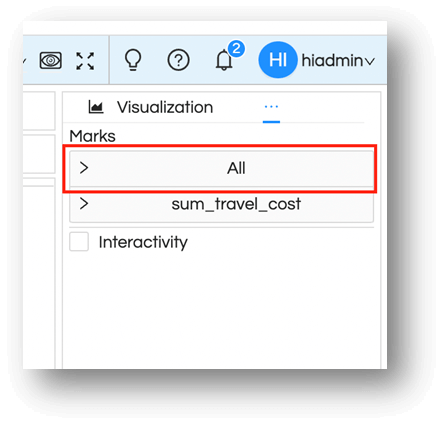 You will notice the Bar is selected by default and that is what is picked up while applying the visualization.
Click on Bar to see the other options available based on the current field selection
Marks menu can also be used for other purposes on the selected chart. Based on your needs you can add information on the charts with the given possible options. (Please note that these options are dependent on the type of chart that you select.) For our example, we have a bar chart and we see options to add fields to color, label or tooltip.
You can drag needed field or use them via right-click menu on those field. Here in the example below travel_type is selected to be added to Color as shown in the image below.
Now the bar chart will split as a stacked bar chart based on the based on cost breakup of travel_type. Further let's add travel_cost to the label as well and generate the chart.
3. Some more types of charts
You can use these features as per your needs. Let us now look at some more charts available in Marks menu. Click on Bar and select Area. And the fields which were part of color and label will continue to create their impacts.
Some of the charts may have different options. For example let us select point chart. we have additional 2 parameters of shape and size . So for shape, if we choose any field in shape and then generate , then it will give different shapes for each value in data point. If we have a field in size and then generate the report again, then it will give size to each point according to it value.
For charts like
Arc
and
Doughnut
chart, we need a measure in rows or columns. It will generate a single pie or doughnut chart. To split the chart based on certain criteria, a field can be added to Color. For example ,
mode_of_payment
.
4. Cards and Mini Charts
Besides usual axis charts or unidimensional charts, More Charts also offers Cards and Mini Chart options. If you have a single measure in the selected field. You can create a single value card.
We can further make this as a mini chart by adding a dimension or measure to detail in Marks option and generate the card again. You'd now notice the value has now a breakup based on the field selected. You can choose from Bar, Line or Area in the mini chart.
5. Word Cloud
Just like the Card, instead you opt for choosing the dimension in the selected field and select More Chart. It will give you an exciting Word Cloud of all the values in that field. For example, let us prepare the word cloud of all cities that we have trips to.
Just like other any other chart lets get more details in this and color the cities based on its location. All cities in wester part of the world with different color and easter cities in different color. All we need is to add longitude to the color field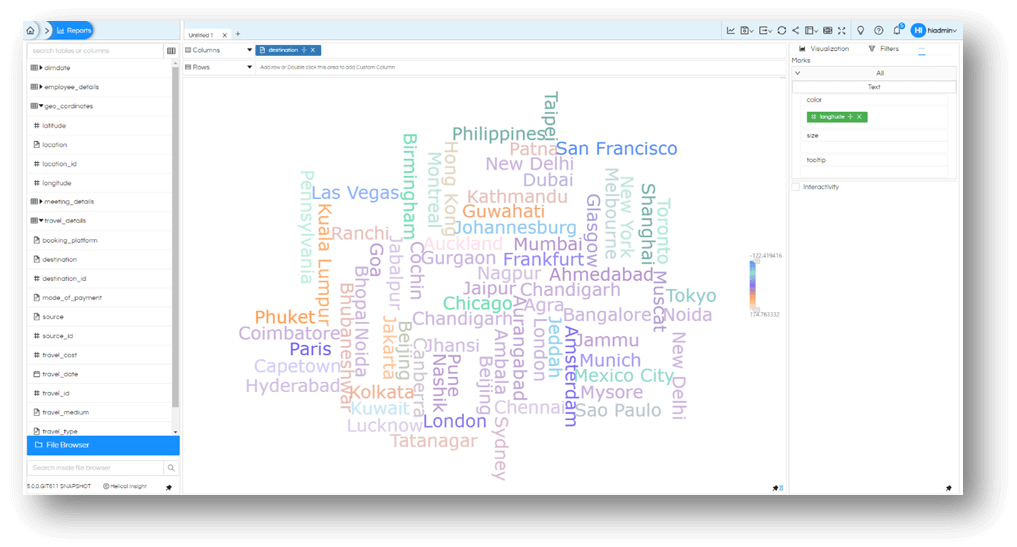 You can similarly size cities based on travel_cost it generated to.
Now you know a bit more of More Charts. Use it to make few more exciting reports and use them on dashboards
Thank You,
Helical Insight