In this article, we will explain different kind of files, their extensions, their description and other details . As of now, there are 8 different types of files that can be accessed via the repository. Each and every one of them is having a different icon and different functionality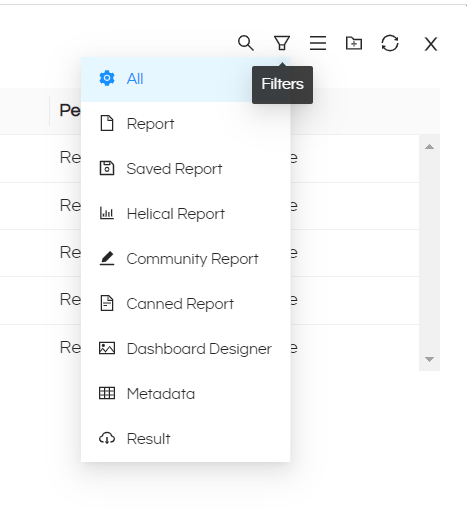 Report: Report the files with. EFW extension. These reports can also be dashboard/community reports as well.

Saved Report: This is useful when we want to open a report / dashboard with specific input parameters always applied, so that whenever the user opens it will open with those input parameters preselected. In those cases saved report can be used, users can create multiple version of saved reports. For using saved reports, open the EFW report in "Open" mode and then next to email scheduling button you can see "Save Report" option.

Helical Report: The files with. hr extension and these modules are introduced with version 5.0 onwards. This same file can be opened in a new window so that it can be embedded.

Dashboard Designer: Designer reports open with the extension. EFWDD. DD stands for dashboard designer. Double-clicking on this report opens the report in edit mode in the dashboard designer. These are basically the reports which have been created using the dashboard designer tool of Helical Insight. Using a dashboard designer, any non-technical, business user can also just drag and drop and create an entire dashboard with filters and inter-panel communication on the fly. Please refer to the Dashboard Designer user guide to learn how to create dashboards using dashboard designer. This same file can also be used to open the dashboard in reading mode, embed it, etc.

Metadata: Metadata files are the files that are created in the metadata module in which we can define the joins and relations between different tables, alias information of tables/columns, static and dynamic views, row-level data security, etc. Metadata files have the extension as. Metadata

Canned Report: Canned reports are used for creating pixel-perfect reports by using SQL queries and using calculations. Refer to this link to learn when to use canned reports.
Result: Whenever any report/dashboard is extracted in a format like pdf/image etc, a physical file of the same is saved at any location which the user wants.
Thank You,
Helical Insight