This article explains how to Email-schedule Reports/Dashboards.
Before Email Scheduling Reports and dashboards we have do email configuration. Please follow this Email Configuration.
First Login and open the report which is to be email-scheduled. Go to Mail icon containing options of Email and Schedule.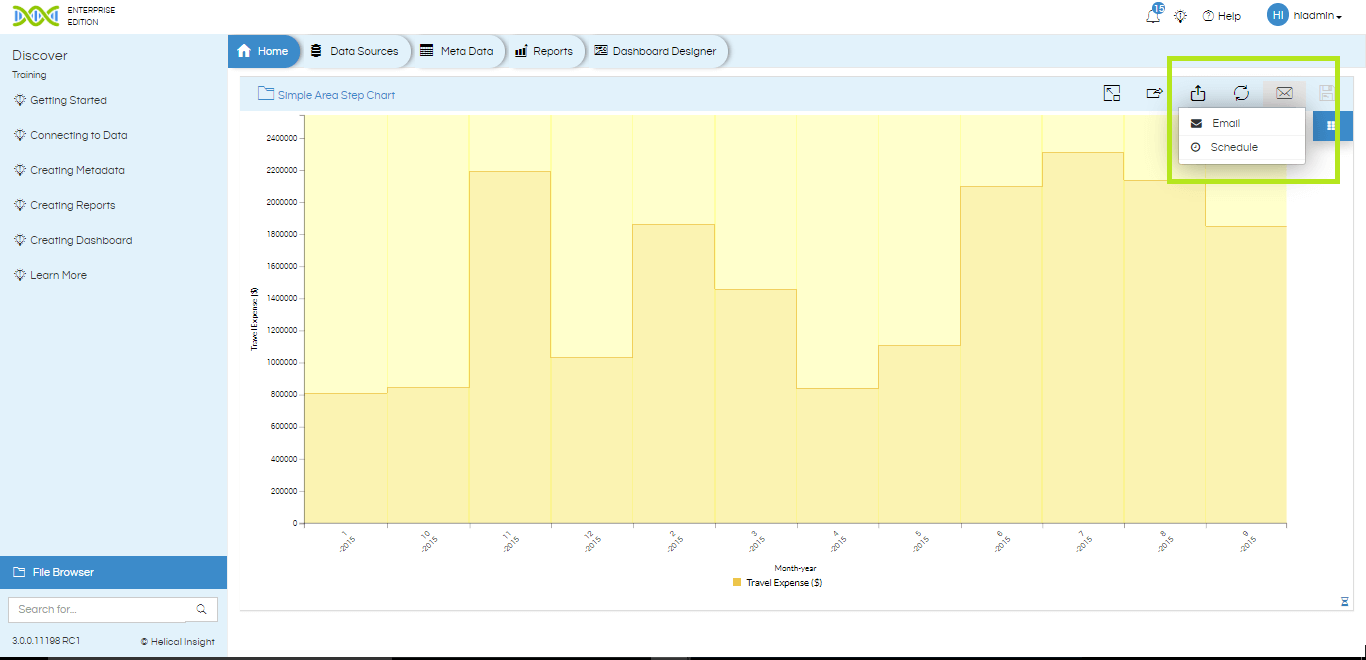 Upon selecting Email, one can email the report immediately, whereas schedule allows you to email-schedule the report/dashboard and set the frequency.
Parameter review shows the current input parameter being selected for report creation. On clicking next, user can provide the email Id; write subject and body of the email along with the report/dashboard saved in different file formats that are to be sent.
From version 4.0 onwards if you are using Adhoc reports, then for those reports emailing also includes Excel and CSV option (data gets exported and email scheduled). Hoever EFW reports, CE reports and dashboards the scheduling option only includes PDF PNG and JPG (it does not include Excel and CSV).
For Canned Reports, we have additional exporting options and these are available even while emailing/scheduling the report.
Email scheduling also has similar options like email. The first window shows the parameters overview and next window allows user to enter email Id, subject line & body of the message
Select the location where these scheduled reports are supposed to be created and saved in the file browser. You will be asked to provide a name to your report schedule. Click on Select. You will be taken to file browser. Provide the name by which you want to save the report schedule. This creates a "Saved Result" file. This means that the result of the report for particular set parameters has been saved and this will be delivered at a scheduled interval based on the parameters as saved in the Saved Result file.
In the next window called scheduling options, user can set the frequency of sending the reports daily, monthly, weekly or yearly, select time zone, start date and end date options.
Here are some use cases of Email-scheduling:
Daily Use Case: If user wants the email to be sent every alternate day with no end date, select 2 days in repeats every option. Select the respective time zone, start date and Ends as Never. View Summary and then Schedule.
Weekly Use Case: If user wants email to be sent every week but only on working days for 1 month only, select Repeats Weekly with repeats every 1 week. Select the working days, time zone, starting date and ending date. view Summary and then Schedule.
In a similar way, Monthly and Yearly repeat frequency can also be set for email-scheduling on a monthly and yearly basis.
For more info, contact us on support@helicalinsight.com